It's not easy being a mom and having a job, even the kind that's home based. To help you cope with the daily tasks and responsibilities of taking good care of your family and work, consider the following tips and tricks:
Come Up with a Foolproof Routine
Developing and following a schedule is crucial in making life for a family- and career-oriented woman like you easier. Having an organized timetable is important even if you don't have to set foot outside the home to carry out your job. Generally, it's a good idea to spend several hours for your work, and then devote the remaining for the family. As an example, you may spend 4am to 8am seated in front of your computer then switch your focus to your family from 8am to 5pm. Having a very flexible home-based work schedule is definitely a huge advantage for a woman like you.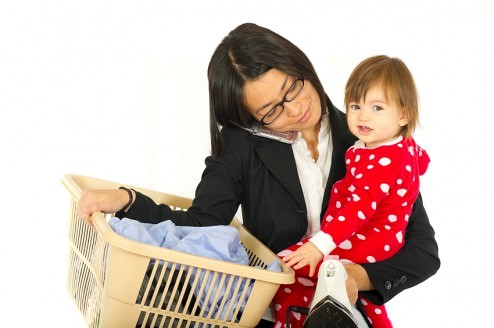 Realize that Goals are Flexible
Having a long list of goals is not unlikely for a woman like you. It can be frustrating to see that you are nowhere near your expectations as the deadline you have set for a particular goal nears. Failure to reach goals within the allotted time frame is perfectly normal, so don't be too hard on your self. Simply say "perhaps it's not yet time" and continue doing your best.
Point Out the Things that Really Matter
It's for certain that your set of priorities is different from that of a friend's. Being a woman who needs to spend equal time with family and work, you will see that having 24 hours a day is simply not enough. To keep your self from going crazy trying to make everything right, it's very important to identify what's really important in life. Make a list of all the things you wish or need to accomplish. Put all important matters on the top, and place on the bottom those that can wait.
Don't Feel Too Shy to Get Help
Identify the things that you find extra challenging to carry out, whether concerning your family or home-based job. Because no one really thinks you're Wonder Woman, they will understand if you seek outside help from time to time. Delegate certain tasks to someone else in your team who fits the bill. Feel free to hire a nice neighbor offering babysitting services.
Have Some Me-Time
It is definitely not an easy task juggling several things each and every single day. No matter how busy you get with your family and home-based job, it's important to remember to take a break and momentarily distance yourself from everything. It can be something as simple as a 30-minute coffee break, yoga session, listening to music or a luxurious bath.